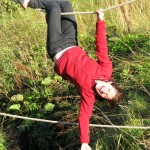 Aimee Bliss
Bachelor of Science Student
School of Biological Sciences
University of Tasmania
I have always been fascinated to learn and discover what amazing and bizarre animals and plants exist in our world. This curiosity began as a child, exploring in my backyard, reading books and watching David Attenborough. As I got older, I realized that many of the animals and plants I was discovering existed were on the brink of extinction  or had already disappeared.
To further satisfy my curiosity of the natural world and in the hope that I could contribute to the conservation of some species, I started a science degree at the University of Tasmania. I am currently in my final year and it has been such a valuable experience. I have learnt so much about biology and ecology  and met so many great people.
My science degree has taught me to be more observant and to look at the world differently. It has given me a real appreciation of how amazingly incredible this planet and the life on it is .
Following the completion of my degree I hope to undertake honors and use my knowledge for conservation work.
Science is engaging, interesting, fascinating and useful. I learn something new every day about how our planet works. Science is also fun, it gives me opportunities to see incredible places, go on adventures and met amazing people.
I am currently fundraising for my next adventure, which is an expedition to Antarctica with 42 other female scientists from around the globe. The expedition aims to improve our leadership skills to increase the number of female scientists in leadership roles globally as a catalyst for change to our current environmental problems. To find out more visit my website.
For further information: www.utas.edu.au/science-engineering-technology