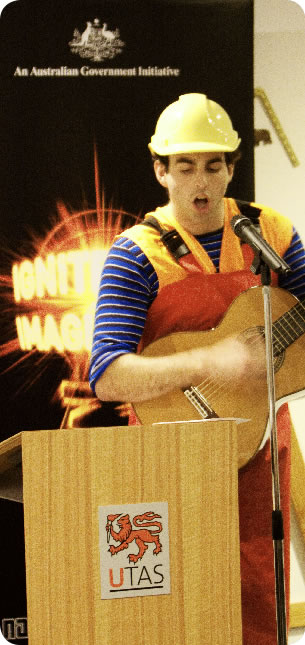 Get Involved
A big thank you to all of our Young Tassie Scientists for 2010!!!
Bookings have now closed
for the Young Tassie Scientists
visit your school in 2010, but
there are still heaps of other
ways to get involved…
---
EMAIL A YOUNG TASSIE SCIENTIST
Have a question or a comment?
Simply email yts@youngtassiescientists.com and don't forget to include the relevant YTS name in the subject line.
---
YOUNG TASSIE SCIENTISTS AT 90 SECONDS
OF FAME 90 SECONDS OF FAME
90 seconds is all it takes to discover amazing science from Young Tassie Scientists and others! Powerpoint is strictly banned - how will they explain their work in just seconds? A fast-paced event, not to be missed!
Friday 20 August, 5:00pm
University Staff Club,
Dobsons Rd, UTAS Sandy Bay
For more details, phone: 6226 7477
---
YOUNG TASSIE SCIENTISTS AT UTAS OPEN DAYS
Unlock your future and explore your options in science, engineering and technology – as well as health sciences, business, education, law and the arts. UTAS Open Day includes a comprehensive information expo, course information sessions, tours of campus facilities and the opportunity to talk with staff and students - and of course, some of our Young Tassie Scientists! Find out more about your future study and career options in science, engineering and technology.
Sunday 8 August, 10:00am – 3:00pm
Young Tassie Scientist talks from 2:00 - 2:30pm in the Centenary Lecture Theatre, Centenary Building
Hobart, Sandy Bay campus
Sunday 15 August, 10:00am – 3:00pm
Young Tassie Scientist talks from 12noon – 12:30pm in the Arts Lecture Theatre, Arts Building
Launceston, Newnham campus
Saturday 22 August, 10:00am – 3:00pm
Burnie, Cradle Coast campus
www.utas.edu.au/openday
---
HANDS-ON, MINDS-ON ENGINEERING
(Years 5 – 12)
Held during Science Week in Devonport and on the West Coast, students can take part in a wide range of programs – including balloon and electric-powered cars, renewable energy, electronics, electromagnetism and light and optics. Each session is tailored to suit the participating year group. – FULLY BOOKED!
---
GROTE REBER MUSEUM AND
RADIOTELESCOPE TOURS (Yrs 7 - 12)
Discover the amazing world of radio astronomy and see an impressive 26m radiotelescope donated to UTAS by NASA. Find out why radiotelescopes are important and explore the solar system through amazing 3D virtual reality shows.
Monday 16 August - Friday 20 August
Mt Pleasant Radiotelescope, Cambridge
For more details and bookings, contact: Karen Bradford, phone 6226 2439 or email Karen.Bradford@utas.edu.au
50% discount on admission during National Science Week ($2/person)
---
CENTRAL SCIENCE LABORATORY TOURS
(Years 9-12)
During National Science Week, the Central Science Lab at UTAS Sandy Bay is offering tours of their facilities. The Central Science Lab is a high-tech, multi-purpose facility that includes a range of specialist analytical equipment such as nuclear magnetic resonance spectroscopy, organic mass spectrometry, electron microscopy and ICP spectrometry (used to measure ultra-trace levels of elements) - read more at www.utas.edu.au/csl.

Monday 16 August – Friday 20 August
Limited tours available, bookings essential, email your name, school, class size and year level, and preferred time for visit to jeanniemarie.leroi@utas.edu.au by Monday 9 August.
---
NATURE CONSERVATION, PEOPLE, PLACES, MAPS, SATELLITES, INSECTS AND CLIAMTE – DOES THIS SOUNDS LIKE GEOGRAPHY?
(Years 5-10)
Well it is! The School of Geography& Environmental Studies offers a stimulating and thoughtful insight into the study of geography through our Interpretive Trail. Geography and Environmental Studies offer key insights into today's greatest challenges: sustainability of our planet; climate change; resource use; human population; and habitat conservation to name just a few! From underground caves, through earthquakes, fighting fires, saving animals, organising people, and predicting the weather, it's all geography!!
Monday 16 August – Friday 20 August; 9:30 - 10:30am and 1:30 - 2:30pm daily
UTAS Sandy Bay campus
Bookings essential; email set.enquiries@utas.edu.au
---
Other Events of Interest
INSTITUTE FOR MARINE & ANTARCTIC STUDIES
As part of UTAS Open Day, visit the Institute for Marine & Antarctic Studies ( IMAS) building and take part in the hands on activities. Whilst there you can also admire the large bronze cast of Roald Amundsen – a Norwegian explorer who lead the first expedition to the South Pole in 1911.
Sunday 8 August
10:00am – 3:00pm
UTAS Sandy Bay campus
---
MEDICAL SCIENCE TOURS
As part of UTAS Open Day, tour the clinical teaching areas, student teaching laboratories, tutorial rooms and the medical research laboratory.
Every 30 mins commencing at 10am and concluding at 3pm.
Sunday 8 August , 10:00am – 3:00pm
17 Liverpool Street, Hobart
Bookings essential, call 6226 7700 during business hours or email reception.msp@utas.edu.au.
---
TASMANIAN AQUACULTURE AND FISHERIES INSTITUTE (TAFI)
OPEN DAYS (Yrs 7-12). Schools only
The TAFI crew will introduce students to the world of marine science. Includes a tour of the Aquaculture facilities and live encounters with marine critters.
Tuesday 17 August - Thursday, 19 August, times by arrangement.
Group size limited to 25 students. TAFI Marine Laboratories Taroona
Bookings essential, contact Natalie Johnston on 6227 7256 or email: Natalie.Johnston@utas.edu.au.
---
SPEED MEET A SCIENCE GEEK
Hosted by the TMAG's Zoology Curators and the TMAGgots, this fun and interactive event will feature Tassie's young zoologists in a 'Night at the Museum'. Learn about the weird and wonderful animals these zoologists study and why they love it! Participants are encouraged to bring along questions they have about Tasmanian animals to ask the experts.
Wednesday 18 August, 6:00pm - 8:00pm
Animal Gallery, Tasmanian Museum and Art Gallery, Hobart
Bookings recommended, email kelly@tmaggots.org.au.