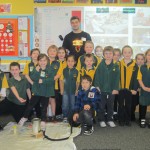 Thanks to all involved in YTS 2013!
What a great year!
I'd like to take this opportunity to say a big THANK YOU to all scientists and schools involved in the program this year.
2013 has been a fantastic year for YTS- we have travelled more than 2 200 kilometres to the four corners of Tasmania, visited more than 50 primary and secondary schools and presented to more than 3 500 students.
The feedback from both scientists and schools has been overwhelmingly positive. The scientists have gained skills in science communication, developed more confidence and even come to a greater understanding of the importance of the work that they do. Students, teachers and the public have all had the opportunity to hear about some of the fasinating and worthwhile science being done locally and to be inspired by the passionate young people dedicating their lives to making the world a better place.