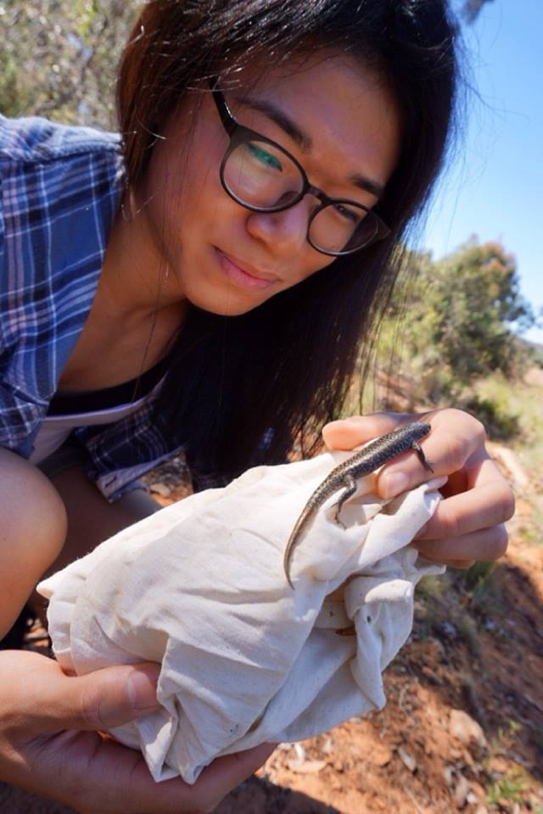 EJ Yeoh
Research Assistant (Animal Reproduction, Climate Change)
School of Biological Sciences, University of Tasmania
Growing up in Malaysia, I was surrounded by nature with a wide range of biodiversity that is only found in the tropics. I had resident spiders, lizards, fish, dogs, hamsters and frogs living in my house compound. I was the child that would harvest grass, bring it home and accidentally invite thousands of ants into my room who wanted to live in the grass in my cupboard. I could spend hours watching National Geographic and Animal Planet. I was that kid who spends her pocket money on books on animals, and can always be found in the 'Pet' corner at the bookstore.
From sternly deciding that being a dog trainer was my future at the age of 17, I was persuaded to undertake a Science degree at the University of Tasmania when I was awarded a scholarship. So, I packed my bags and travelled from the warm tropics down south to the cold island of Tasmania, where I spent the next 3 years studying a whole array of very interesting science subjects such as animal and plant science, chemistry and nutrition at the University of Tasmania.
I've just completed my Honours project at the University of Tasmania, where my research looked at how lizards choose their foods (crickets) based on carbohydrate, protein and fat composition. This is important for understanding how food and nutrition can improve animal and human health.
I have now been offered the opportunity to further my interest in nutrition and diet as a research assistant at the University of Tasmania. I am excited!

For further information: www.utas.edu.au/science-engineering-technology/biological-sciences