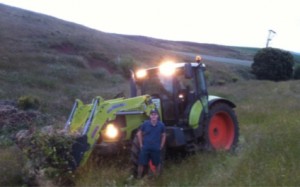 Rob Arvier
Growing up in rural Tasmania and then working with the Forth Valley Veterinary Clinic while I was in high school, I developed an early interest in agriculture and science.
Then after attending high school at Marist Regional College in Burnie for years 7-12, I undertook a gap year to save up money for university and to have a think about what I actually wanted to study!
I decided to enrol in a Bachelor of Agricultural Science (Honours) at UTAS and throughout my university studies I had the opportunity to work part-time for the Tasmanian Institute of Agricultural Research (TIAR) and for Botanical Resources Australia as an undergraduate researcher. This work was invaluable in making industry connections and securing the skills and funding required for my honours project in my final year of study- I even had the opportunity to travel to the Unites States to study on a scholarship!
Currently I work as an Agronomist/Field Officer with Botanical Resources Australia, which is based in Ulverstone. This company grows a crop called Pyrethrum that produces a chemical that is used in pesticides to control insects in crops and households.
In the future I hope to become involved in the international aspects of the company and hopefully continue researching within the field of precision agriculture.
My studies, as well as the work experience I have gained, have led to many opportunities for further study and employment outside of Australia which I hope to pursue sometime in the near future through my current position.
For more information: www.botanicalra.com.au