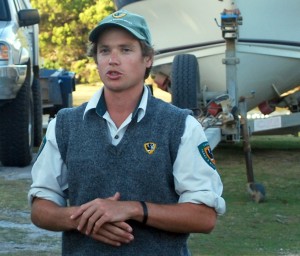 Sam Cuff
When I was a child, my family would often take me camping and there was always a plethora of animals there which I found fascinating. These early days out in the natural environment planted a seed which in recent years has blossomed into a strong passion and career in sharing this wonder with others.
I recently completed my undergraduate degree in Natural Environment and Wilderness Studies at UTAS which complemented my personal and professional experiences.
My family played a vital role in instilling the values which have led me to where I am today. However there have been a number of other people who have inspired me to follow my ambitions including some of my teachers, university lecturers and work colleagues.
I am currently employed by the Tasmanian Parks and Wildlife Service as a Discovery Ranger. My main responsibility is educating others about Tasmania's unique natural and cultural heritage. I work in national parks all around Tasmania, at community events and in a range of primary and secondary schools. I thoroughly enjoy learning about Tasmania's natural and cultural values and the science that underlies it and subsequently inspiring others with it.
I aim to continually build up my knowledge and experiences to ensure my scientific education improves. The ultimate goal is to plant the same seed in other people, that was planted in me, so there is greater awareness and respect for our heritage to ensure it survives through perpetuity.
For more information: www.parks.tas.gov.au